Recently, my guy told me some shocking news.
I was informed that I am stubborn. This came as a complete shock because normally I like to think that I am the embodiment of perfection.
I love to believe that I am all things good and decent and thoughtful and kind and delightful on the planet.
Get to know them....
Often times after writing something, I feel that I didn't say enough.
That perhaps I could have said it better or that maybe some fear was doing the typing and perhaps I was less than clear or honest regarding my opinions or feelings about a situation.
First fact about HIV: It will cost you money and time.
When there are attempts made to decrease HIV infection rates, the financial costs are never discussed.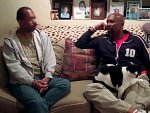 As gay men, any and all attempts to build community puts a nail in the coffin of domination, coercion and exploitation.
Within the world that relies and feeds on isolation, we offer it a great big kick in the pants when we refuse to "go away", be silenced or allow ourselves the privilege of second class citizenry. Like Thich Nhat Hanh, I have always dreamed of creating my own version of Plum Village.
My new favorite past time is falling in love with men's potential.
Instead of taking an honest look at what a person presents as their true self, I like the big game of pretend. Basically, I wasn't very bright and instead of examining my choices regarding my health and well being , I decided to jump into another ill-fated romance.