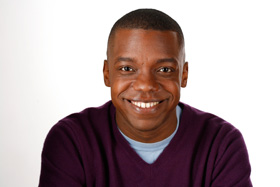 Location: Long Beach, CA
Anthony Carter is a career coach, with experience organizing and supporting more than 100 people as they pursue their professional and personal goals. His background in theatre, teaching and writing inform his personalized and creative approach. Anthony is fueled by his passion for reinvention, transformation and client driven solutions. He considers himself a 'forever student,' eager to both build on his creative and presentation skills and stay in tune with the constantly changing job market.
His hunger for knowledge and determination to turn information into action has contributed to his successful support of more than 40 homeless individuals as they develop 21st century job searching skills. Meanwhile, he created then launched a pilot program at a local college where he organized classes, networking opportunities and mentoring sessions.
Anthony believes ongoing training and self care in the workplace is key to success – a tenet he lives out through his interests in professional development, yoga, meditation, and writing. Anthony is currently working as a placement specialist and is always interested in a challenge. Reach out to him here to connect!