Location: Long Beach, CA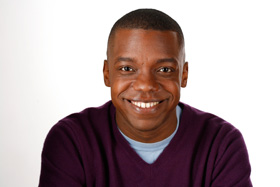 Anthony Carter is a writer, actor and teacher. He is adjusting to life on the West Coast after years of being a theater rat in NYC.
He is an incredible cook and looks forward to the day when all artists are well paid and highly respected. He utilizes his love of great literature, film and brilliant comedy and social commentary to write and constantly develop work that inspires and entertains.
After surviving eighteen months of unemployment, he created a book, Strong Stuff, that is funny, engaging and hopeful. Check out his movie, Relentless, when it premieres in the late Spring as well as his comedy web series, Poison into Medicine, when it premieres in March 2011.
Read Anthony's posts at The Bilerico Project.