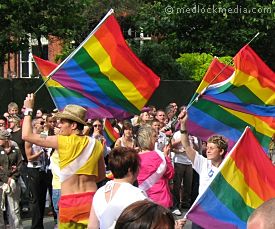 Pride festivals for all of 2011 and beyond should be canceled.
More important than hunky guys, displays of camp, and the all consuming focus on gay marriage, our young people need all of our time and access to resources. It will not do any young person any good to go to a rally and have no place to sleep afterwards. 
Pride festivals that focus on something other than mentoring and encouraging young people will only provide a quick and imminent death to our movement.
We can not demand equal rights without consideration of what we are teaching and sharing with younger generations. Protests of all kinds are needed.
Where is the marching and demanding that young people have health care and ways to sustain themselves should their family of origin not great them respectfully when they come out? I grew up in constant fear of being found out. I grew up with the fear that I would be at a severe loss financially if I was found out and then of course excommunicated from my family.
I understand young people's need for safety, self expression and the unrelenting fear of being "put out" and left to fend for themselves. Pride festivals with their gigantic budgets have yet to take seriously the needs of our young members.
An old school diva whipping out a bunch of hits from the 70's will not help a young boy who is bullied, isolated and lacking in basic survival skills. Theme parties and fanfare will not ensure that the young girl who is questioning and unsafe in her own home will sleep easy at night.
I have been there and I speak from experience. What I needed and suspect young folks still need is the reassurance that they are loved, more than enough, have a right to exist and are not alone.
Having spent years in abusive relationships, I understand the abuser's primary tool of isolation. Isolation and our complicity in being confused, horny, and constantly shaking our asses makes it very difficult to reach out to another person.
We, as older and hopefully wiser persons, must let our younger counterparts know that we are not easily confused and can offer more than a good time and financial resources. We are not willing to just reparent them. It is our duty to pass on knowledge, teach life skills and assist in goal planning and general self esteem building.
Personally, I am gathering a group of older established gay men to create a one-on-one mentoring program that will culminate in the creation of something that publicly declares our youth "off limits" in terms of aloneness and abuse.
Someone is watching.
Not everyone has gone asleep at the wheel. There are people who care and who want to listen.
While this entry is directed towards feelings of safety for young people, I want to publicly challenge older established gays to change the way we interact with the younger generation. I want to challenge the elder set to care for, not date, not raise, but truly care for younger persons.
I challenge us all to seek out the young folks in our immediate communities who would benefit from a kind word and a blueprint for self love and acceptance.
Yesterday, I saw a very moving film, "On these Shoulders We Stand". In this moving documentary, gay history and the subsequent movement were shown in great detail. At 42, I witnessed things via this film that I didn't know. If I was unaware of these monumental changes and our incredible history, it is safe to assume that the young person being bullied or harassed is unfamiliar with this as well.
How will any of this (canceling pride, community involvement, teaching skills) help young people and keep them alive? It will make everyone more responsible for not recreating yet again feelings of giving up and isolation that inevitably lead to depression and in extreme cases, suicide.
My mission is to assist young people in gathering the skills that lead to thriving in this world. I will offer support for our passionate and powerful young people. The support looks like and is not limited to basic budgeting, housing information, cooking and house maintenance, spiritual practices, interviewing and interpersonal relationship building skills.