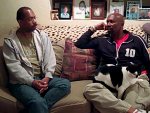 As gay men, any and all attempts to build community puts a nail in the coffin of domination, coercion and exploitation.
Within the world that relies and feeds on isolation, we offer it a great big kick in the pants when we refuse to "go away", be silenced or allow ourselves the privilege of second class citizenry. Like Thich Nhat Hanh, I have always dreamed of creating my own version of Plum Village.
Having lived all over the world, I can say that everyday people are building communities and places to provide care and nurturing.
No place is this more needed than in the gay community. With HIV infections on the rise, abject poverty and all manner of addictions, it is evident that we have much work to do before we can effectively heal and move forward as a community.
We don't improve our lot in life in isolation.
We construct theories for better living by interacting with others . Fortunately, I have been a part of several communities and yet am most aware that my community building and membership is always changing.
As a black, gay, artistic, thinking man I provide a great deal of insight gleaned as a direct result of having participated in so many varied groups and causes.
It is clear that although many of us are uncertain as to how or why we need each other, the need remains.
It is a need so strong and prevalent that we will take it in any and all forms. My suggestion is that we talk and really listen to one another in regards to creating and sustaining relationships (the bedrock of community).
Recently, I sat down with a few friends on a Sunday.
I was excited to speak with them because there is always an exciting display of wit, honesty and respect.
Three beautiful black men.
Each one representing a different decade and perspective on growing up gay. Rick, a charming , kind soul is in his 30's, I am in my early 40's and Mac, an attractive , politically astute man with a wicked sense of humor is in his 50's.
We gathered together to discuss familial relations, the joy of supporting one another, stereotypes and misconceptions.
Watch and listen and you will understand why I care for both of these men so deeply…